The stone circles in the UK are truly enchanting. These ancient structures are filled with mystery and wonder, captivating visitors from all over the world. Standing tall and proud, these circles have withstood the test of time, leaving us in awe of the ancient civilizations that created them.
TheEach stone seems to have its own story to tell, whispering secrets of the past. Walking amongst the towering stones, one can't help but feel a sense of reverence and connection to the ancient world. Whether it's the famous Stonehenge or the lesser-known circles scattered throughout the countryside, each one holds a unique charm and allure.
Exploring these stone circles is like stepping back in time, immersing oneself in the rich history and folklore of the UK.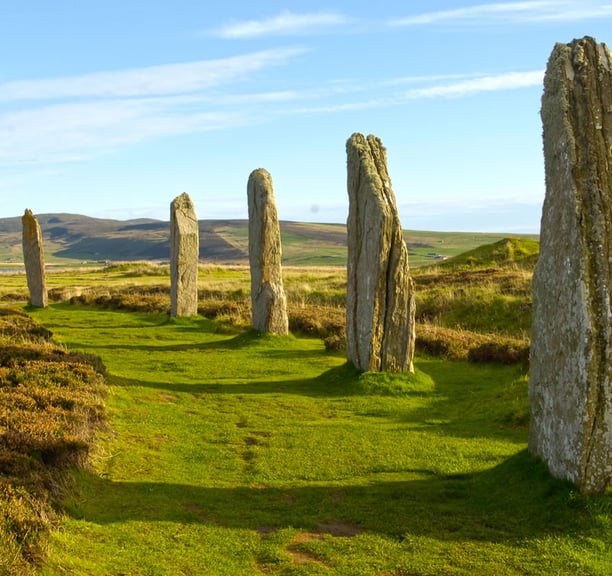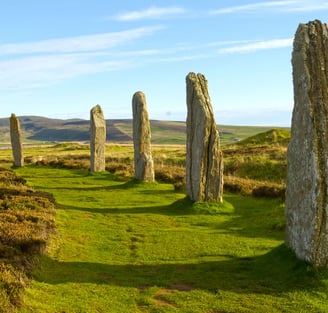 The Ring of Brodgar is a Neolithic stone circle located in Orkney, Scotland. It is one of the largest and most well-preserved stone circles in the British Isles. Consisting of 27 standing stones, the Ring of Brodgar is believed to have been constructed around 2500 BC. The purpose of this ancient monument is still a mystery, but it is thought to have had religious or ceremonial significance for the people of that time. The stones, ranging in height from 2.1 to 4.7 meters, are positioned in a circular formation, creating an impressive sight against the surrounding landscape. The Ring of Brodgar is not only a testament to the advanced architectural skills of the Neolithic people, but also a place of intrigue and wonder for visitors from around the world.
We will zig zag the length & breath of the UK, crossing England, Wales & Scotland in our personally selected motorhomes. Each stone circle vibrates and activates our inner DNA, awakening the knowing of our ancestors. This once in a lifetime journey is still in the planning stages and is expected to last between 10 days and 2 weeks.
UK is an amazing place to immerse yourself into a rich culture, which can surprise you with its history, monuments, celebrations and, of course, food. Contact us so we can help you organize a memorable stay at one of the most magical places on the planet.